Question: How did you get into the temperature-controlled distribution sector and what is your role within Moran Logistics?
Answer: I started up Moran Logistics in 2006 after buying a chilled Volkswagen van, and moving products 7 days a week to South Wales from Ashby-de-la-Zouch myself. The on-time performance and accountability that was demonstrated gave me the opportunity to transport more goods, which meant part-exchanging the VW van for a 26 tonne rigid truck. Once again, performance accountability, and delivering on time in a cost effective manner gave me the opportunity to take on more work. At this point I exchanged the 26 tonner for 3 artics, also changing my management infrastructure to ensure a solid foundation was maintained. The success of the 3 artics meant that I was able to introduce more customers, which in turn increased the size of the fleet, whilst staying focussed on cost effectively delivering on time and maintaining an excellent relationship with my personnel. This meant not only retaining loyal people but maintaining a focus for the customer. My 3 artics quickly grew into 30, then 60 etc.

14 years later, Moran is now at over 260 vehicles, delivering throughout the UK with 6 operating centres and 3 temperature-controlled warehouses. We have never deviated from what we know and what we do best, which is delivering excellence.

We are primarily a temperature-controlled logistics provider, who have always been focussed on our customers. My role within the business has been an adventure; driver, mechanic, customer services, planning, commercial, team leader, transport manager, warehouse shift manager, legal compliance manager, health and safety manager, finance, director, MD, CEO and owner. A lot of these skills I inherited from my previous employment having served in the military and working for one of the UK's most successful major household retailers.

Question: Can you firstly tell us what temperature-controlled vehicles that Moran Logistics operates?

Answer: Moran operate 260 tractor units and 365 temperature-controlled trailers across the UK, from our warehouse facilities at Castle Donington, Heywood and Leeds, as well as our transport bases in Oswestry, and Aylesbury. Having tried several different tractor units and vehicles over the years, we have found that our current DAF fleet is ideal for multi-drop, urban deliveries direct from our network of temperature-controlled warehouses. As we make over 8,000 deliveries a week across the country, we've found that the DAFs are the best vehicle for the job. Every new trailer/rigid that we purchase, all have the livery of the company's charity of choice – Sapper Support – who provide aid and support to victims of PTSD. As an ex Royal Engineer, this is very close to my heart and the fleet has been demonstrated to have significantly increased awareness of what is a very serious issue.
Question: What has been the most important technical development in your temperature-controlled bodies and refrigeration systems in recent years and how has it impacted on your operations within Moran Logistics

Answer: Diesel fridges are becoming more efficient every year, using less diesel and keeping product fresher, with temperature more consistent for longer periods. We are always monitoring innovations in refrigeration, whether it be alternative fuels or power sources, with particular interest in electric and solar developments. It is key that everything is considered before a decision to change is reached, as some fridge systems draw from the tractor unit, which can have a negative environmental impact.
We renew our fleet to keep in line with new legislation, and we build our bespoke kit specifically for the customer, having won awards for innovation, supporting the customer to deliver excellence. This has certainly had a positive impact on the business, contributing to our success.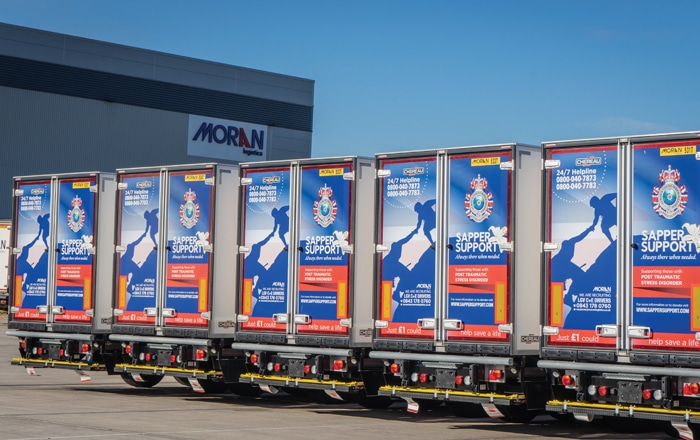 Question: Are you using telematics across your fleet currently? If so, what advantages do you see this gives your clients?
Answer: We have telematics fitted to our entire fleet, which provides almost instant updates on all vehicle locations and enables us to provide our customers with accurate delivery times. Our system also provides driver style management information, which enables us to coach our drivers and reduce our carbon foot-print. We have developed our IT systems around customer and operational needs; as an example we automatically contact our customers 15 minutes before any delivery, which our customers find highly beneficial and improves turnaround times due to preparation.
Question: Customer needs are constantly changing, so what are you finding is now the biggest request from your customers?
Answer: Our biggest request from the customer is to deliver a relationship whereby they can always pick up the phone, at any time, for any reason and for any request through our 24/7 customer services team. Our customers also have direct access to the Directors of the company. They know we have a change agenda whereby we can react straight away to support change within our customers.

Flexibility and agility, combined with continuous improvement on logistics solutions, is a major requirement in such a reactive industry, which then requires proactivity. Moran Logistics can react very quickly to deliver major changes to the point of recently setting up new operations in Aylesbury, which we achieved in a matter of weeks for our largest customer, as we do not have the bureaucracy of some larger logistics businesses.

Our customers are always looking for innovation, strategy, sustainability, with exemplary levels of service, with the cheapest possible cost profile. We have proved frequently we're able to deliver on all fronts, to ensure mutual supply chain benefits.

Question: What environmental measures do Moran Logistics incorporate to ensure best practice?

Answer: Being a father and a grandfather, I care about the future of our planet. With this in mind, all of our temperature-controlled warehouses are run on sustainable energy with zero carbon emissions. We are working closely with DAF to review cost effective options to also reduce the emissions from our transport fleet.

All utilities supplied in our warehouses are carbon neutral. In the last month, we have increased our fleet with another 30 Euro 6 tractor units, as we are constantly upgrading our fleet to ensure optimum safety and fuel efficiency on the road. We also have several new vehicles on order that will run on bio diesel, giving a further reduction in carbon emissions, which in turn supports our customers' environmental objectives.

We constantly ensure that we have the mechanism to take advantage of innovation and keep our fleet in line with environmental and legislative changes. Our BRC accredited warehouse facilities are all powered by sustainable wind farm energy.

Question: With the ongoing saga of Brexit, have you noticed any changes within your business?
Answer: Brexit continues to drive uncertainty across the UK. We have provided Brexit related additional storage facilities for several customers. We are also supporting our non-UK personnel to help alleviate their concerns and follow the due processes required.

The main impact of Brexit is customers who were, and are, still looking for support with temporary storage options, both running up to peak trading and beyond. We are continuing to support a number of our customers with short and long term storage solutions to assist their multi-national supply chains.

Question: Lastly, would you like to share any news about your company that you feel would benefit the TCS&D readers?

Answer: We strive to build relationships and partnerships within the industry. Moran has delivered consistent growth over the last 14 years and we are forecast to continue in this manner. We are not only increasing our customer base but service offering to deliver a comprehensive, supportive partnership with existing and new customers ensuring they have the best service levels, flexibility and personal attention possible. Above all, we are a family business, where our people are our strongest asset and we strive to make Moran Logistics the employer of choice.

Our vision is to be the logistics partner of choice in chilled, ambient and frozen warehousing and distribution. Our strategy is built on our core principles and focus on customers, people, finance and operations. By constantly keeping these core principles at the heart of what we do, we build our service around the customer's needs and demands. By developing our team's skill sets and engaging with our key stakeholders, we aim to achieve excellence in every aspect of our offering.

Our specialist experience and knowledge enables us to build a wide range of partnerships across the supply chain industry, from the manufacturers' production line to retailers' shelf. We strive to provide our customers with extra value by working closely with them, and designing innovative logistical solutions that not only meet, but also exceed their expectations.