Sophisticated telematics is now fitted as standard to Schmitz Cargobull's latest range of reefers
As a business renowned for quality and innovation, Schmitz Cargobull continues to refine its product offer and so it's latest generation S.KO COOL SMART trailer may not come as a huge surprise to the sector.
It's lighter, more dynamic, more secure, more fuel-efficient and quieter than before and boasts a range of additional features that makes it a robust asset as well as a wise investment with low operating costs.
But it's the fact it comes with Schmitz Cargobull's sophisticated TrailerConnect® telematics system as standard that perhaps sends the strongest message to operators about the importance of data.
Christine Cullen, Sales Manager for Value Added Services at Schmitz Cargobull UK and Ireland, says: "Our equipment is known to be quality, robust and reliable, but it is complemented by our advanced technology which can further help reduce running costs and give customers valuable and specific data they can really use to their advantage.
"TrailerConnect® offers complete transparency when it comes to controlling your fleet. It provides information on load temperature, tyre pressure, brakes and fuel level. It also allows you to change the set point of the refrigeration unit remotely from any connected terminal."
A telematics specialist, Cullen's role was created specifically to provide guidance to customers on how to maximise the use of TrailerConnect® to increase fleet uptime and efficiency.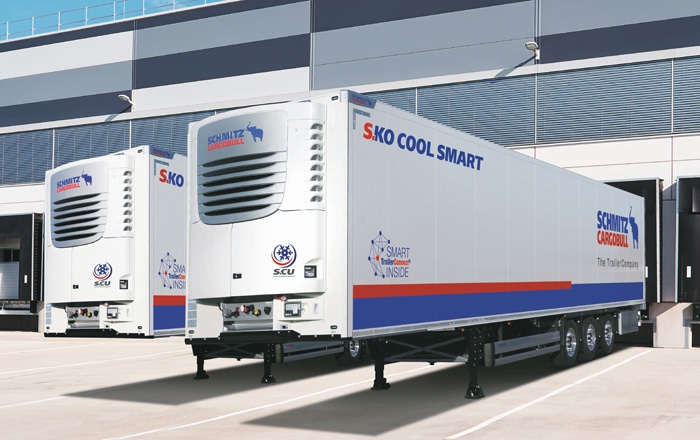 "Every S.KO COOL SMART trailer that now goes out in the UK is telematics live, and the benefits to our customers are incredible," she says.
"The system includes all the regular telematics features that a fleet manager would recognise, such as location, map data, the journey, but our system also includes much, much more.
"For instance, it records the temperature history so you can review the whole journey and see what temperature the load has been kept at throughout. TrailerConnect® measures many trailer components to ensure loads are kept at a premium quality, security and that may have a positive impact on the efficiency of your delivery."
New look and getting lighter
The S.KO COOL SMART trailer itself has been given something of a facelift in recent times, with a distinctive new look including a protected area of the bulkhead that has been extended upwards to help to avoid damage during coupling.
It is also insulated with Schmitz Cargobull's Ferroplast® thermal technology, meaning its panels are tougher than conventional bodywork and offer greater insulation, while also being thinner so providing additional internal volume for transporting larger loads.
Its temperature is controlled by the company's own cooling unit, the S.CU, and the latest version boasts impressive credentials being 50kg lighter than its predecessor and 10 per cent more fuel efficient. It also meets Stage V EU emission regulations, minimising its impact on air quality, whilst an optimised Silence Kit reduces noise further.
The interior of the S.KO COOL SMART is fitted with a flush-mounted load securing rail that prevents damage to goods. It also features a newly designed multifunction floor, with a non-slip surface so in the unlikely event water penetrates into the body, the floor distributes it evenly meaning there is less risk of the surface icing up.
All impressive stuff. However, it's the trailer's integrated telematics system that Schmitz Cargobull really feels takes its offer to the next level.
One of the more recent additions to TrailerConnect® is a remote door-locking system, which works with a geo-sensor that allows the door to lock or unlock as it reaches the perimeter of a specific site.
"That's exclusive to the Schmitz Cargobull system and was developed following our work with STI, the distributor for McDonalds," adds Cullen. "We worked with STI on a remote door locking feature so it is not the driver's responsibility to lock or unlock the doors – it's all pre-programmed. This highlights our innovative approach to technology and the importance of finding solutions for various requirements."
The S.KO COOL SMART can be enhanced further when opting for Schmitz Cargobull's Executive Plus Package.
The Package includes additional benefits and incentives, such as fleet management and proactive service, full maintenance service of the semi-trailer, maintenance and replacement of the tyres and full service maintenance of the cooling equipment. At the end of that agreed period, Schmitz Cargobull will make their customer a new trailer and keep the used one.
"We are confident the S.KO COOL SMART is the leading refrigerated trailer in the market," says Geoff Ward, Sales Engineer, Schmitz Cargobull UK and Ireland.
"It's a great, economical choice for businesses and will help keep down the total cost of ownership. It offers maximum security, ensures the safe handling of temperature-controlled freight and short turnaround times at the ramp. And when combined with our high-grade Executive Plus Package it really is a complete and highly efficient transport solution.
"We are proud of our customer-centric approach and we've tried to tailor our offering and packages to make sure we meet every need. The idea is to not have to go and use any other system on the market – we want to make sure everything the customer needs is covered by us. So, everything they receive is 100 per cent Schmitz Cargobull."
All in all, a comprehensive package, and a seemingly 'smart' choice for operators looking to make the most of their trailer.